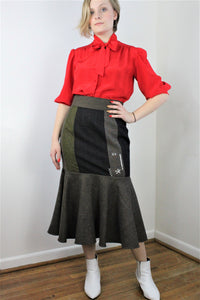 I received an odd box of high-quality wool pieces and turned it into a couple of gored skirts with a trumpet hem. Embellished with a little bit of embroidery, each skirt is unique. The skirt is lined to the knee, there is a back invisible zipper. The wide 2 1/4" waistband is designed to highlight the waist, the gored part of the skirt is figure-hugging.
The size 8 measures 14 1/2" flat at the waist, 20 1/2" at the hip.
The size 12 measures 16" flat at the waist and 22 " at the hip.
Dry Clean Only